O Muse provou esta noite aquilo que já se sabia: que são uma das maiores bandas ao vivo do momento. Um concerto sempre em alta, com apenas "Feeling Good" acalmando o ritmo, foi o que ofereceu para um público ávido por alta voltagem.

As músicas fortes de "Black Holes and Revelations" e alguns dos momentos mais inspirados de "Origin of Symmetry" e "Absolution" compuseram o tracklist.

O início fez-se em tons épicos com "Knights of Cydonia", canção que encerra o mais recente "Black Holes and Revelations", e o público reagiu de forma apoteótica. Depois de um afirmativo "Obrigado Lisboa" do vocalista Matthew Bellamy, o concerto prossegue em alta com "Hysteria", de Absolution . "Map of the Problematique" marca o regresso a Black Holes com os seus teclados vibrantes e bateria gigante.





O trio poderoso mostra-se contente por regressar a Lisboa e explode com "Supermassive Black Hole", primeiro single e faixa do último álbum. Em seguida, o regresso ao passado com uma versão efervescente de "New Born" e com "Feeling Good" (versão de uma música conhecida na voz de Nina Simone), ambos do segundo registo Origin of Symmetry. Nova explosão de aplausos para receber "Starlight", que tem honras de coro no refrão.

Os aplausos eclodem ainda mais alto para receber "Time Is Running Out", um dos melhores momentos de Absolution. Os riffs da guitarra anunciam "Plug in Baby" e o público reage de forma esfuziante aos gigantes balões brancos arremessados para a massa humana concentrada frente ao palco.

Para o final, a banda reservou o agridoce "Stockholm Syndrome", mais as suas guitarras em espiral, e "Take a Bow", tema que abre Black Holes and Revelations de forma dançável e revela toda a beleza da voz de Matthew Bellamy. Um final "vaporoso" para um concerto de uma banda que não brinca em serviço e sabe adaptar o espetáculo ao contexto em que ele se insere. (Texto: Mário Rui Vieira (Blitz) / Fotos: Rita Carmo EE)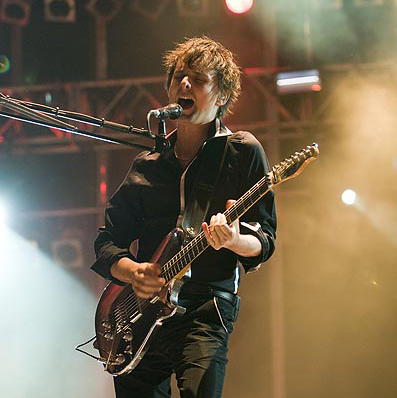 Tracklist : Knights of Cydonia Hysteria Map of the Problematique Supermassive Black Hole Newborn Feeling Good Starlight Time Is Running Out Plug In Baby Stockholm Syndrome Take A Bow