No mês passado informamos que a Red Hot Organization, que arrecada dinheiro para a luta contra a Aids, vai lançar a sequência para sua coletânea "Red Hot + Rio" (1996). O álbum duplo, chamado "Red Hot + Rio 2", será lançado no dia 28 de junho.
O tracklist do tributo ao movimento da Tropicália brasileira da década de 1960 foi revelado, trazendo um conjunto de colaborações interessantes:
Beck
(foto)
e
Seu Jorge, Of Montreal
e os
Mutantes, David Byrne
e
Caetano Veloso, Madlib
e
Joyce Moreno, Cults and Superhuman Happiness, José González
e
Mia Doi Todd, Devendra Banhart
e
Marisa Monte
e
Rodrigo Amarante, Javelin
e
Tom Zé
, e muito mais.
Como relatado anteriormente, os artistas Dirty Projectors, St. Vincent e Neon Indian não concluíram suas trilhas ainda. A Red Hot Org. espera liberar as faixas como bônus digital.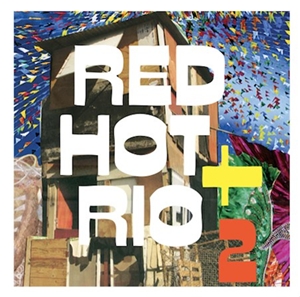 Confira o tracklist abaixo:
CD1 (Red):
01 Alice Smith + Aloe Blacc: "Baby"
02 Beck + Seu Jorge: "Tropicália (Mario C 2011 Remix)"
03 Mia Doi Todd + José González: "Um Girassol da Cor do Seu Cabelo"
04 Quadron: "Samba de Verão"
05 Vanessa da Mata + Seu Jorge & Almaz: "Boa Reza"
06 John Legend: "Love I've Never Known"
07 Aloe Blacc + Clara Moreno: "Nascimento (Rebirth) - Scene 2"
08 Curumin: "Ela (Ticklah Remix)"
09 Aloe Blacc + Alice Smith: "Baby (Old Dirty Baby Dub Version)"
10 Superhuman Happiness + Cults: "Um Canto de Afoxé Para o Bloco do Ilê"
11 Om'Mas Keith: "Mistérios"
12 Forró in the Dark + Brazilian Girls + Angelique Kidjo: "Aquele Abraço"
13 Mia Doi Todd: "Canto de Iemanjá"
14 Caetano Veloso: "Terra (Prefuse 73 '3 Mellotrons in a Quiet Room' Version)"
15 Marisa Monte + Devendra Banhart + Rodrigo Amarante: "Nú Com a Minha Música"
16 Bebel Gilberto: "Acabou Chorare"
17 David Byrne + Caetano Veloso: "Dreamworld: Marco de Canaveses"
CD2 (Hot):
01 Beirut: "O Leãozinho"
02 Tha Boogie: "Panis et Circensis"
03 of Montreal + Os Mutantes: "Bat Macumba"
04 Phenomenal Handclap Band + Marcos Valle: "Tudo o Que Você Podia Ser"
05 Madlib + Joyce Moreno: "Banana [ft. Generation Match]"
06 Marina Gasolina + Secousse: "Freak le Boom Boom"
07 Money Mark + Thalma de Freitas + João Parahyba: "Tropical Affair"
08 Los Van Van + Carlinhos Brown: "Soy Loco Por Ti, América"
09 Orquestra Contemporânea de Olinda + Emicida: "Roda"
10 Mayra Andrade + Trio Mocotó: "Berimbau"
11 Apollo Nove + Céu + N.A.S.A.: "It's a Long Way"
12 DJ Dolores + Eugene Hütz + Otto + Fred 04 + Isaar: "A Cidade"
13 Javelin + Tom Zé: "Ogodô, Ano 2000"
14 Atom™ + Toshiyuki Yasuda: "Águas de Março [ft. Fernanda Takai + Moreno Veloso]"
15 Twin Danger: "Show Me Love"
16 Rita Lee: "Pistis Sophia"