Álbum-livro reúne Frank Black, Iggy Pop, Flaming Lips, Strokes, Nina Persson, entre outros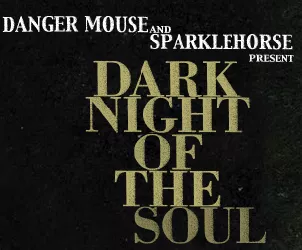 O álbum-livro "Dark Night of the Soul", projeto idealizado por Danger Mouse (Gnarls Barkley) e Mark Linkous (Sparklehorse), junta em um só trabalho nomes como Julian Casablancas (Strokes), Iggy Pop, Wayne Coyne (Flaming Lips), Frank Black (Pixies), Nina Persson (Cardigans) e Suzanne Vega, entre outros. E, também, o cineasta David Lynch. Este colabora com um livro com cem fotos feitas pelo próprio.
Essa edição única chega no próximo semestre e traz as 13 músicas inéditas, escritas por Danger Mouse e Mark Linkous, e cantadas pelos artistas referidos.
01. Revenge (Wayne Coyne)
02. Just War (Gruff Rhys)
03. Jaykub (Jason Lytle)
04. Little Girl (Julian Casablancas)
05. Angel's Harp (Black Francis)
06. Pain (Iggy Pop)
07. Star Eyes (I Can Catch It) (James Mercer)
08. Everytime I'm With You (Jason Lytle)
09. Insane Lullaby (James Mercer)
10. Daddy's Gone (Nina Persson)
11. The Man Who Played God (Nina Persson)
12. Grain Augury (Vic Chesnutt)
13. Dark Night Of The Soul (Vic Chesnutt)
Site oficial: www.dnots.com