Kings Of Leon mais sexy do que nunca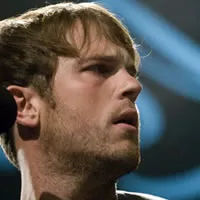 O Kings of Leon admite ter feito em "Only By The Night", quarto álbum de estúdio com lançamento previsto para 23 de setembro, um trabalho mais sexual do que o costume.
Em declarações à NME, a banda norte-americana confessou que, fruto de algum acaso, cometeu a proeza de condensar "o elemento sexual" que se espera das suas músicas num só tema - "Sex On Fire", single que ficará disponível para download a partir de 08 de setembro, sendo editado em CD uma semana depois.
Defendendo que, apesar de correr alguns riscos, o tracklist de 11 canções os deixa muito satisfeitos, o vocalista Caleb Followill adiantou à revista britânica que foi o resto da banda que o incentivou a escrever o terceiro tema com base no verso "This sex is on fire". "Além de soar bem, chama a atenção", teriam justificado.
Tracklist:
"Closer"
"Crawl"
"Sex On Fire"
"Use Somebody"
"Manhattan"
"Revelry"
"Seventeen"
"Notion"
"I Want You"
"Be Somebody"
"Cold Desert"
Site oficial: www.kingsofleon.com