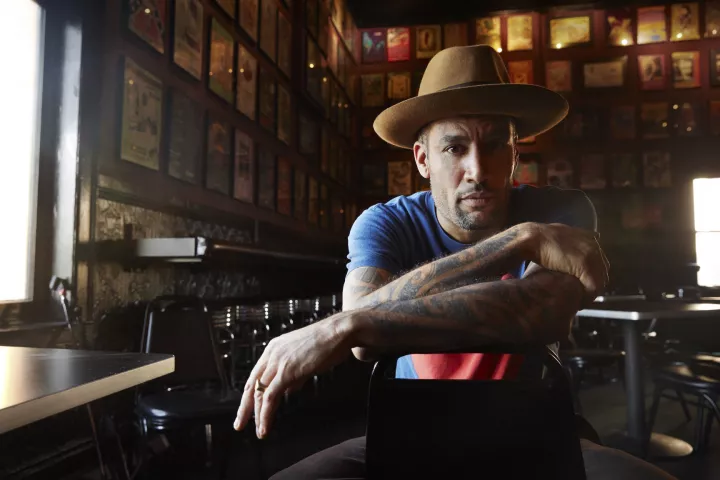 American singer and songwriter Ben Harper was born on the 28th day of October 1969 in Claremont, California. He grew up listening to folk, blues, soul, reggae and R&B, with groups such as Blues Traveler, Hootie & the Blowfish and Phish as influences. The passion for music made him participate in several bands during his adolescence.
His first solo album, Welcome to the Cruel World, came out in 1994. Following this, Ben Harper released Fight For Your Mind (1995), The Will To Live (1997) and the critically acclaimed Burn To Shine (1999). Starting with The Will To Live, he began working with the backing band The Innocent Criminals.
Diamonds On the Inside, 2003 album, is practically a "solo" album by Harper, that is, without The Innocent Criminals. In 2004 came the album There Will be a light, featuring the participation of the gospel group Blind Boys of Alabama. On Both Sides of the Gun, released in 2006, Harper played most of the instruments. However, The Innocent Criminals collaborate on some tracks.
Ben Harper returned with a new album with The Innocent Criminals in 2007 when he released Lifeline. Two years later, he released White Lies for Dark Times, an album that brought the collaboration of a new group, Relentless7. Give Till It's Gone, the American's tenth studio album, was released in May 2011. The album features a collaboration with former Beatle Ringo Starr, who co-wrote and played drums on the tracks "Spilling Faith" and "Get There from Here.
In January 2013, Get Up! was released, an album that Ben Harper recorded in partnership with musician Charlie Musselwhite. The following year, another partnership, this time with his mother, Ellen Harper. Ben & Ellen Harper released Childhood Home in May 2014.
Ben Harper & The Innocent Criminals released the album Call It What It Is in 2016. In 2018, the artist released No Mercy in This Land, a new collaborative work with Charlie Musselwhite. Following that, Harper released Winter Is For Lovers (2020) and Bloodline Maintenance (2022).